It's remarkable, really, that Bernard Hopkins and Winky Wright have the kind of names non-boxing fans might have heard. Their fight this weekend could sell pretty well because of it, but I won't be buying. I'm afraid of clawing my eyes out from boredom.
Hopkins, 42 and one of history's greatest middleweights, has made a living for the last several years patiently doing just enough to win just enough rounds to win his fights, or, in the case of his showdowns with Jermain Taylor, doing just enough to lose just enough rounds to questionably lose both bouts. He feints. He ducks. He clinches. He headbutts, hits low, holds while punching and other shady business. He periodically throws a nice right hand, the kind he used to knock people out with back when his output was less periodical, and when he wore his executioner's mask during his ring entrance more convincingly. Somehow, he did enough of what he does well to pick apart Antonio Tarver last year -- 15 pounds north of the weight class he so ably dominated -- to make for compelling entertainment. As someone who appreciates the craft of boxing in conjunction with power, speed, volume or some other multiplier, I confess to admiring Hopkins for the purity of his sweet science that night, despite finding his ring routine of late tiresome.
Wright, 35, has to his credit tried to make himself a more exciting showman than he once was. Still, he has to be the most unlikely boxer ever to win the love of the hip-hop community (you may have seen him in the video for the remix of Busta Rhymes' "Touch It," or as something of a villain and rival to Jamie Foxx for the love of a woman in the video for "DJ Play That Love Song," or even a 50 Cent video). What he does is very simple: He holds his long arms up in front of himself, with his elbows and forearms protecting his torso and his gloves protecting his face; since you can't find room between his mitts to slug him in the nose, and trying to hit his body gets you a fisftful of forearm, you have no choice but to throw looping punches around his defense; and when you do, that's when he beats you to the punch with a quick, stiff jab, followed by maybe a left cross or hook. In this way, he wins nearly every fight he's in by decision, because he has close to zero power. Doesn't sound like flashy hip-hop stuff, does it? Plus, his name is Winky! Still, as with Hopkins, it can be compelling entertainment at times. He humiliated one of my favorite all-time fighters, the much-feared Tito Trinidad, by jabbing the bejeebers out of him. Tito retired afterwards. And his decision to make himself more marketable by being less cautious led to his enjoyable, see-saw bout last year with the aforementioned Jermain Taylor, which was scored a draw.
The promoters are hyping this as a fight between the Bernard Hopkins who fought Antonio Tarver and the Winky Wright who fought Jermain Taylor. Let's hope! Otherwise, this will be the second fight this year featuring big names -- after the significantly bigger names of De La Hoya and Mayweather met -- that will fall something short of the expectations of anyone who equates both men's reputations with, well, fun television. Yet, the most fun this can get won't be terribly fun.
MY PREDICTION: I'm going to call the upset and say Winky pulls off the decision. Why? Winky's jab is going to make Hopkins work. He doesn't like to do that much these days. And it's going to land, too, because it's accurate as hell. It won't be as accurate against the maddeningly slippery Hopkins -- just accurate enough to win just enough rounds to win the fight.
CONFIDENCE:
55%. Not very brave, but I'm wavering on this one because Winky will be 10 pounds north of a division that he was a little small for anyway, fighting at 170, five pounds south of Hopkins' last match when he looked less lethargic than he had in a long while. Also, Hopkins can punch. Winky can't.
ALLEGIANCE:
I don't care much for either of these fighters, but Hopkins is particularly insufferable to me with his egomania, his rule-breaking, his safety-first style and his broken promise to his dead mother that he would stop boxing by now. Winky wins my "most attractive person in a line-up of uglies" award.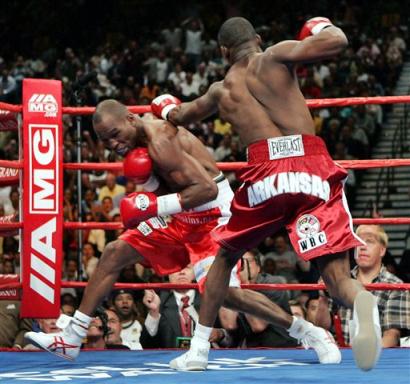 Slippery sumbitch, that Bernard Hopkins. (from boxnews.com.au)


If I find out Winky will be packing semi-automatic heat, then it might be interesting enough to tune in. Also, maybe he'll have a better chance of hitting Hopkins with something.
(from lasvegasgunrange.net)


UPDATE:

Wright began July as the underdog; he has since become the betting favorite. Therefore, his win would not be an upset. Maybe bettors said, "Yes, Hopkins is bigger, but Wright is a sure hall-of-famer, too, and on the list of best active boxers at any weight, Wright ranks higher." Or in a fight that's close to an even pick, "Might as well throw money at the minor upset."